Carter Bond is one of the first brands in the world to produce wood-finish acetate frames using natural looking materials that can easily be adjusted, providing a beautiful product that is easy to work with and wear.
Please note, no trees were harmed in the making of these frames!
Model 9159 SUN is a superb vintage inspired sunglass in our signature wood look finish.

Also available in the optical version…

Model 9161  follows the trend for deeper frames in more colourful woods.

Carter Bond
Model 9149
Fabulous model 9149 from Carter Bond is now back in stock!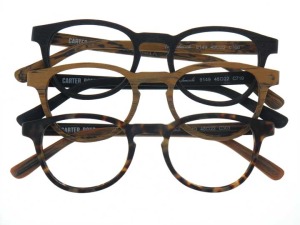 All colours available:
C300
C303
C719
and introducing new matt dark tortoiseshell with brown scratch wood temples C328
Available now through your CARTER BOND distributor or sales agent
see website for details