A&A Optical announces the release of two new ophthalmic frames from luxury collection: Jimmy Crystal New York™. The designer eyewear collection is comprised of striking limited edition pieces reminiscent of a collector's item. Each style is unique and special, featuring hand set Swarovski elements. Jimmy Crystal New York™ was established in 1991 and is renowned for fashion forward designs and superior quality accessories. Designer pieces include ophthalmic eyewear, sunglasses and reading glasses in acetate, metal and combinations.
Dazzling Ophthalmic Eyewear

From exotic prints to dreamy organic swirls, there is a style for every taste, every occasion and every day.  Luminous Links. Glistening with Swarovski Crystals, semi-rimless Elegant features linked metal temples with two tone coloring and crystal details. Elegant is available in burgundy (with silver crystals) and brown (with copper crystals). Size: 53-19-135.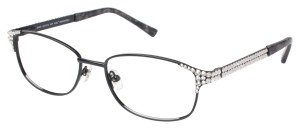 Discreet Allure. Inconspicuous Irresistible features a classic front but a slight head turn reveals bold glamorous temples. The metal style sparkles with two rows of glittering crystals and shimmering marble-like elongated temple tips. Irresistible is available in black (silver crystals) and brown (silk crystals). Size: 52-16-135.
Each Jimmy Crystal frame is shipped with a suede frame pouch and hard case. Jimmy Crystal merchandising materials include: Jimmy Crystal modular display, mirror accented with Swarovski crystals, crystal logo plaque, and counter card.
Check out the 2015 A&A Optical Look Book for ways to incorporate Jimmy Crystal New York eyewear into a chic ensemble.
A&A Optical Company brand portfolio includes house brands: Alexander Collection™, XXL™, Cruz™, Jalapenos™, Seventy one™, and New Globe™. Licensed brands include: Quiksilver, Roxy, Jimmy Crystal New York™, Crocs™ Eyewear, and Pez®. For more information, contact A&A Optical at 800-492-4465 or visit www.aaopticalco.com.