POLICE, the world-famous lifestyle brand has 4 new frame releases.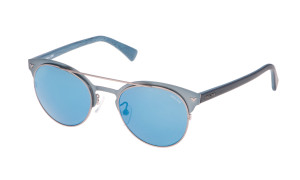 S8950-KTB: URBAN METAL VINTAGE– Bright colors give a cheerful quality to the round acetate in solid colors featuring the "clip-on" effect that recalls the Seventies, with distinctive details such as the metal bridge, ton-sur-ton temples and the iconic logo on the front piece. The model is designed for a woman who is in search of a retro-glamorous urban style. The thin temples are customized with the iconic Police logo.



POLICE, the De Rigo Group's house brand, was launched in Italy in 1983 as unisex eyewear and a metropolitan manifesto for those who set out to get noticed. The name is no coincidence. It triggers the imagination and dreams, especially of the younger generations, and offers a whole new outlook, across the ocean and against the tide. The name evokes the American "on the road" lifestyle, but also the strong urban spirit of the city of all cities: New York.
The POLICE attitude made its worldwide mark right from the outset, as an Italian brand with potent international overtones. This alternative, nonconformist, almost irreverent brand immediately carved out a niche of its own. Building on its growing identity and positioning, over the years POLICE has reinvented itself, going from a simple eyewear brand to a veritable lifestyle benchmark. In this transformation, the brand extended to include a full range of fashion accessories – perfumes, watches, jewelry, and leather goods – all with a strong personality, and representing a particular look and way of life. Young, authentic rebels, who follow the trends but seek to stand out with originality and flair, are thus irresistibly drawn to the POLICE "community".
The POLICE brand continues to ride above the fashions, without ever compromising its personality. This has been portrayed over the years by important Brand Ambassadors, such as Bruce Willis, George Clooney, David Beckham, Antonio Banderas and the football star, Neymar Jr, who have interpreted and voiced the POLICE values, style and world.
Police products are now distributed in more than 80 countries across all major cities. Since 2008, the brand's retail strategy has focused mainly on the Middle East and China, alongside the opening of 40 shop-in-shops in the most important Department Stores. These shop-in-shops embody the quintessence of the POLICE lifestyle. They serve to reinforce the brand image and its metropolitan attitude whilst presenting a lifestyle as a whole.