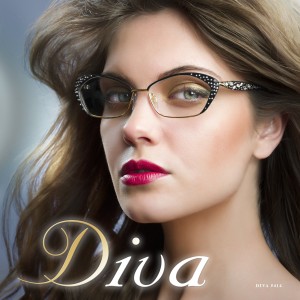 With five new optical styles, Diva's fall release shows off its beauty and diversity with a variety of shapes and elegant metal treatments.
Twisted, pressed metal and plastic work is the latest theme to make an appearance in this dynamic jewelry collection. This clever point of design is often utilized on the front of a model and is perfectly balanced by the Austrian Swarovski Crystals that coat their designs. This combination adds richness while not overwhelming. Additionally, the collection diversifies with several new, geometric shapes.
An array of new acetate colors and finishes compliment these new features. Multi-toned colors with striated and marble finishes ensure that each frame has an exciting, feminine look. Tones such as violet, aqua, coral, silver, blue, and forest green in addition to browns and black are just some of the color shades that are prevalent.
Eastern States Eyewear has been an industry leader in distributing high end, luxury eyewear and sunglasses for over 75 years. Originally founded in 1938 by Benjamin Shyer, the company has grown to become a national distributor of several prestigious worldwide brands. Currently under the leadership of second generation co-presidents Paul and Roger Shyer, the company remains family owned. ESE is renowned for its ability to deliver innovative, high fashion creative design and holds a reputation as one of the industry's most reliable and esteemed companies.
ESE's association with Cazal Eyewear first catapulted the company into prominence in the early 1980's through the phenomenon known as "CAZZIE FEVER", named for the craze of this uniquely groundbreaking brand. The collection's legend has only grown and today is a favorite amongst hip hop musicians and many Hollywood celebrities.
Additionally, ESE has grown to establish its product diversity with the distribution of the officially licensed Jaguar Eyewear collection, the French designer collection of Chantal Thomass, the luxurious Diva eyewear, as well as two original collections in Exces Eyewear and Wood U? Co-President Paul Shyer sums up the company philosophy, "At Eastern States, eyewear design is an art form. We work continuously to create a superlative product, in every way. Yet, we have also consistently managed to achieve a certain balance that is rarely met. That is, the development of singular, fashion collections that flatter and appeal to a wide range of loyal, design savvy customers." www.eseyewear.com