September 2, 2014 | Posted in Uncategorized | By Cindy
With the rimless Silhouette LITE-Twist, head designer Roland Keplinger has put forward a congenial design concept that redefines eyewear as an accessory: endowed with the Silhouette DNA, high-tech materials and precise, detailed workmanship of the highest class, enhanced by innovative technologies and accentuated with bold color contrasts. This frame is a personal statement of younger, fashion-conscious people vying for a distinctive eye-catching look.
The starting point of the unusual temple design is a flat pre-embossed component with finely punched perforations. In a very technically demanding process, the thin deco element is wrapped around the SPX+ cylinder of the screwless Silhouette "snap hinge" and then threaded through a fine opening on the outer edge of the temple.
With contrasting print appliques, the smart finish is an "integrated" decorative component. This innovative "weave" technology forms the sophisticated, technical foundation of the LITE-Twist design. The temple is finished with the SPX+ element, in which the titanium part is anchored, forming a unit with a clearly defined 'high end'.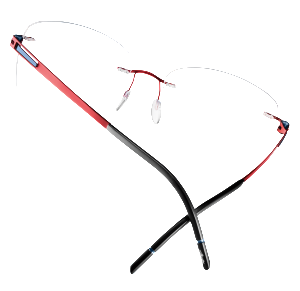 The delicate, one-piece temple end with a colored groove, gives the temple design a new and modern interpretation of the classic Silhouette Cap.
The confident color concept of the 8 rimless LITE-Twist models brings together the classic tone-in-tone colors and bold vibrant color trends of the coming year. The lens shapes range from narrow progressive lenses to classic shapes. Whatever you go for, LITE-Twist is the perfect eyewear for the urban catwalk- extremely sophisticated and absolutely trendy, yet timeless.
For further information:
www.silhouette.com; www.facebook.com/silhouette
In the App store: Silhouette iMirror
Silhouette
What began in 1964 as a vision of glasses as a decorative device, is today the world's leading brand of light and high quality glasses- Silhouette. This is the brand of the world's lightest glasses, made with great attention to detail, a large proportion of work by hand, an individual design approach and the use of the best materials and the latest technology. Made in Austria, they are exported to 100 countries worldwide. In 1999 Silhouette revolutionized the eyeglass world with its Titan Minimal Art glasses weighing only 1.8 grams, without screws, hinges or rims.
Silhouette glasses have been 35 times with astronauts in space; they travel around the globe with the Vienna Philharmonic as well as with a number of celebrities from entertainment, business and politics.